The 6 Improvements We've Made To Our SATs Revision Lessons To Make Them Even More Effective
July 27, 2021 |
5 min read
PLEASE NOTE: As a result of school closures during the coronavirus lockdown English primary school pupils did not take their 2020 SATs tests. SATs 2021 have also been cancelled. SATs 2022 will be going ahead as usual.
In late 2019, we published our updated SATs revision sequence for 2020 – the 25 topics we think are most likely to come up in the 2020 Key Stage 2 SATs, ordered from most important to least important.
We based the sequence on research and analysis from past papers, the National Curriculum, and the insights we've gained from supporting over 58,000 pupils with our One-to-one SATs Intervention Programme.
But we didn't stop at updating the order of our SATs revision lessons; we also looked at the lessons themselves and what we could do to improve them – and therefore help pupils make greater progress. Here's what we've learnt, and what we did.
The basics – what does a Third Space Learning SATs revision lesson look like?
All our maths booster lessons follow a set structure: an Arithmetic Warm Up, a series of scaffolded Revision slides, some practice SATs questions, and Extension slides for pupils who perform especially well with the topic. We also include Support slides with every lesson that have more scaffolding to help struggling pupils better understand the material.
Our revision sequence makes up the 25 SATs revision lessons available to schools using our KS2 SATs Intervention Programme in the spring term. We updated the order to ensure pupils signed up to the programme were revising not only the content they need most help with, but also the lessons that we know will have the most impact.
Across all 25 lessons we have 8 'standard' questions – 4 at the 'Working at' level and 4 at the 'Emerging' level – and an average of 10 steps to success S-to-S).
Of course, not every pupil will manage to complete all the steps to success in a lesson in one tutoring session. Some will naturally struggle with certain topics, and others might simply work through lessons slower e.g. because of a lack of confidence.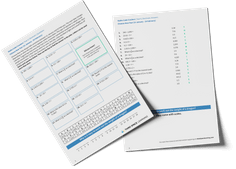 Learn More About Our 1-to-1 Interventions
Discover how our 1-to-1 maths tuition can supercharge SATs results in your school.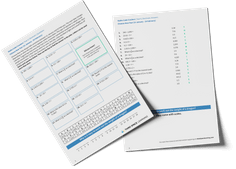 Find Out More!
This is where our lesson sequence synergises with lesson delivery; because we cover the most important topics first (that is, those that are likely to turn up more, and for more marks) pupils aren't put at a disadvantage for needing more time for learning.
The lesson sequence is also flexible; if our Initial Diagnostic Assessment or a teacher's prior knowledge indicates that a pupil needs to focus most on one particular topic, it can be moved up in the sequence and dealt with earlier.
At an average pace of one lesson's worth of S-to-S covered per one-and-a-half sessions, a pupil can cover the 9 most crucial topics for the SATs in the 14 weeks the programme runs for. Our KS2 maths SATs revision sequence post gives a very thorough breakdown of just how valuable those first 10 topics will be!
The review process – how we established what we could improve
With our new lesson sequence decided, our next focus was how we could ensure pupils on our Year 6 SATs intervention programme could get the most out of those lessons – how we could help them learn those most crucial topics as thoroughly as possible.
To do this we drew on as wide a variety of feedback and research as we could. As well as analysing past SATs papers, our Curriculum Design team also analysed our existing lessons for which lessons were most often answered correctly (and incorrectly), which lessons had the most 'steps to success' noted as being 'Needs more work', and what pupil feedback was on their usefulness.
The team also conducted surveys of teachers from schools on our programmes and our own tutors, asking them which lessons they felt were most useful, most difficult, and which they felt pupils could spend more time on.
These responses were measured against feedback from our Quality Assurance team, who conduct weekly reviews of the SATs programme for tutor performance, to build up a more complete picture of the 'teacher' side of things.
Finally the Curriculum Design team watched two teaching sessions of every SATs revision lesson, one in which the pupil performed well and one in which the pupil underperformed, to see if there were anything else that might have been missed.
Once all the data had been collected, the review began in earnest. The team first decided that nothing was sacred; any part of the lessons could be changed if it meant improvements could be made.
The review was conducted against the premise with which we designed the programme to begin with – to create a SATs revision programme that boosted performance by providing plenty of opportunities for maths practice, and used a maths mastery approach – in particular techniques like interleaving and self-explanation – to enhance pupil understanding.
This study by Dunlosky et al. on improving learning was a significant influence on our initial programme design philosophy. It has since been supplemented by more recent research papers, including publications from the University of Cambridge Faculty of Education, to help us iterate and improve our lessons with up-to-date knowledge.
We're also currently working with a PhD student from UCL's Institute of Education to evaluate learner self-regulation in our programmes and improve tutor performance as well as lesson quality.
What we've changed in our KS2 SATs revision lessons
So after all the analysis, and review, and redesign, what have we actually changed in our revision lessons? To put it simply: quite a lot. During our recent webinar, Curriculum Lead Candida Crawford briefly went over some of the changes her team had made to the SATs lessons. Below you'll find the full list, including what the change was and why we felt this was necessary.
Hopefully, this could give you some ideas for improvements you might want to make in your own lessons!
1) Introducing Lesson Objectives with key words underlined
What's changed?
Previously pupils were encouraged to read out all the LOs and underline the key words themselves.
Why did we do this?
Having Lesson Objectives with key words already underlined frees up more time for the pupil and tutor to discuss what they're going to be learning in the lesson, and for ensuring that the pupil understands key vocabulary. Tutors prompt pupils to discuss the concepts, like "can you remind me what "column addition" means?" It also gives tutors more time to assess the pupil's understanding, which they use to inform and personalise the rest of the lesson.
Take-away for your own SATs revision lessons
Consider using a similar 'underlined LOs' system to open your revision lessons – teachers can use this to better gauge pupil understanding of the topic before the lesson begins properly.
2) New pupil prompts/tips related to each question
What's changed?
Previously we had a small box with a number of different suggested tips for the pupil to consider. E.g. read and underline, draw a model, estimate… Now there is one specific tip on each question/problem, introduced with a fun astronaut character.
Why did we do this?
Single, question-specific tips provide more guidance for pupils on what methods help with which problems. The pupil and their tutor can discuss why that method is helpful, over time building the pupil's independence and metacognitive ability.
Take-away for your own SATs revision lessons
When using revision worksheets, try including a 'tip' or 'hint' that's specific to the topic being revised.
3) Removing our specific "reasoning" slide
What's changed?
We used to have one slide dedicated to a specific reasoning task, towards the end of the lesson (an example is given below). This was a more challenging question which pupils were encouraged to attempt. This has been removed in favour of a greater focus on reasoning throughout the session.
Why did we do this?
Some pupils who weren't as confident found the reasoning slide a negative way to end the lesson if they found it too hard. With a focus on reasoning throughout tutors can still stretch and extend more confident mathematicians via challenge questions, without negatively affecting less confident learners.
Take-away for your own SATs revision lessons
Rather than back-loading a series of more difficult questions that weaker learners may feel discouraged from attempting, consider using questions that provide opportunities for further challenge for more able pupils.
4) Improved plenary structure – referring to the specific concept from each lesson
What's changed?
Previously our SATs lesson plenaries focused on recapping the learning objectives and talking to pupils about how they felt about the lesson. Now, we've made our plenaries much more specific to the lesson and skills learnt. Pupils are challenged to summarise what they've learnt in their own words, and tutors ask probing questions about the concepts and strategies they need to remember in the future.
Why did we do this?
The revised structure encourages more metacognition and reflection on the lesson. It also gives the tutor more insight into a pupil's understanding, to better inform the teaching in the next lesson.
5) Better support slides
What's changed?
Our support slides have been improved, and learning aids have been added in to help tutors plug gaps more effectively and efficiently. The support-slide specific review took around 75 hours – approximately three hours per lesson across the 25 lesson revision programme.
Why did we do this?
These changes and additions ensure that tutors have further teacher resources, visual teaching aids and recap activities at their fingertips to more thoroughly support pupils with more significant gaps. Using feedback from tutors and informed by progress data we've made sure these resources are precisely aligned to the lesson content for the greatest impact on pupil learning.
6) Adding thinking points to the Arithmetic warm up
What's changed?
We didn't previously have any tips or prompts on the arithmetic slide at the start of the lesson but we have now added a relevant tip for each one, normally in the form of a question, as shown above.
Why did we do this?
This question helps introduce the concept ahead early on, or raises a key point that the pupil should keep in mind when working through the content. This is designed to get the pupils into the problem solving mindset of the lesson more quickly, and provides some scaffolding for those pupils who are struggling.
Take-away for your own SATs revision lessons
Whilst we want pupils to become more confident at arithmetic we don't want them to spend too long on a warm-up before continuing with the main content of the lesson; consider including tips for the warm-up to help reduce the load on pupils' working memory.
---
We've already begun using these updated lessons, and collecting feedback on them from tutors and pupils. This means we can review again next year, with plenty of fresh evidence to help us continue to iterate on and improve our SATs revision lessons!
Do you have pupils who need extra support in maths?
Every week Third Space Learning's maths specialist tutors support thousands of pupils across hundreds of schools with weekly online 1-to-1 lessons and maths interventions designed to plug gaps and boost progress.

Since 2013 we've helped over 90,000 primary and secondary school pupils become more confident, able mathematicians. Learn more or request a personalised quote for your school to speak to us about your school's needs and how we can help.