From Our Classroom To Yours: The Structure Of A Third Space Learning KS2 Lesson
November 20, 2022 |
4 min read
At Third Space Learning, we're proud of our one to one maths intervention programmes for many reasons. One of the most important is the huge amount of research, planning and expertise behind the structure and design of the online lessons used by our tutors.
In fact, we have a dedicated Academic Team responsible for creating all of our high-quality lesson content in line with the national curriculum.
Do you want to learn more about our process? Are you planning to create your own intervention lessons and looking for inspiration?
Keep reading for an insight into:
How we structure our 1-to-1 lessons;
How you could structure your booster lessons;
How our KS2 intervention programme supports your pupils.
Please note that this blog refers to our standard KS2 lessons, and our dedicated SATs revision lessons follow a slightly different structure.
Read more: Year 6 Maths Revision Programme
A recipe for success
The curriculum is the backbone of our lessons. Our curriculum is made up of 400 Learning Objectives. Before starting any session, pupils begin the programme with an initial diagnostic assessment called 'Mission Zero'. The results of this assessment, coupled with ongoing assessment throughout the programme, then identify which Learning Objectives – and in which order – are most impactful for each pupil.
If a school would prefer to choose their own Learning Objectives for their pupils each week, they can choose to do this instead.
The diagnostic questions are carefully written to ensure that if the pupil gets the answer incorrect, the corresponding Learning Objective(s) addresses the concept thoroughly so the pupil can successfully achieve the desired 'goal'. The questions have multiple choice answers that have clearly thought-out distractors to identify possible misconceptions.
The lessons themselves follow a distinct structure based on grounded research and best practice. We have broken the curriculum down into smaller steps, and each lesson covers one or more Learning Objective(s) pitched at the appropriate level for the pupil based on their diagnostic assessment, with the goal of these pupils reaching age-related expectations.
Each Learning Objective is its very own self-contained mastery unit (involving small steps), segmented into 5-8 teaching slides that focus on one objective only. These slides each follow the same mastery structure:
Concept
Guided practice
Varied independent practice
Application
Additional support
The Learning Objectives have been designed from the ground up with cognitive load theory in mind to ensure that working memory is not overloaded. Tasks are broken down into small, manageable sections with key elements highlighted and discussed.
Pupils can also earn 'effort points', which are awarded not only for answering questions correctly, but for persevering with tricky problems, explaining how they reached their answer or identifying where they might have gone wrong.
Third Space Learning Terminology
You may have noticed us talking about 'Learning Objectives' and 'lessons' interchangeably. We often use the word 'Learning Objective', as the word 'lesson' can imply that it fills the entire tuition session, which it may or may not in reality; pupils often cover multiple Learning Objectives in one session.
Want personalised online lessons to support your target pupils?
Learn more about how our 1-to-1 interventions work on a 10-minute call. You'll have a chance to see the platform, review our curriculum and ask as many questions as you like.
Find Out More!
Third Space Learning's five-step structure
Each of the pupils signed up to our one to one intervention programme progresses through their own personalised learning journey, but their lessons all have one thing in common; a five-step structure designed to plug gaps and build confidence and understanding.
Step 1: Concept
The Learning Objectives begin with a probing question based on the concept, which means the tutor can understand each pupil's starting point and personalise the lesson from there. These are often questions that promote reasoning and deeper thinking. For example: True or False? Spot the mistake. Can you explain what the representation is showing?
Tutors introduce each concept in a clear and easy-to-understand way, ensuring that pupils feel ready to learn. The tutor models and scaffolds the learning, shares mathematical language and asks questions throughout to enable high levels of metacognition by the pupils, often using representations to deepen understanding. The pupil is guided through a series of ideas and explores the concept together with the tutor.
Learning Objectives are well-structured and have a systematic approach, with each small step increasing cognitive demand and promoting mathematical thinking. During each lesson, tutors continually encourage pupils to justify their reasoning and explain their working out, helping to develop their mathematical language.
"A learning environment designed to build engagement and lessons designed to raise attainment."
Step 2: Guided practice
Once the concept has been introduced, we take a 'we do' 'you do' approach, where a guided example is carefully scaffolded and completed together with the pupil and tutor. Of course, intervention sessions should not be divorced from classroom teaching, and the 'I, WE, YOU' approach is something that pupils are likely to be familiar with.
The pupil then has an opportunity to complete a similar example independently (with support from the tutor if needed). This enables them to practise the relevant skill or method and further embeds the learning so that it can be applied beyond the tuition session.
Step 3: Varied independent practice
By this point in the lesson, the tutor should feel confident that the pupil has moved their learning forward, understands the concept and is ready to practise independently. Our practice questions focus on variation and intelligent practice, so pupils are not practising more of the same, but using carefully sequenced questions to address possible misconceptions and explore different ideas.
Step 4: Application
To complete the Learning Objective, pupils are given the chance to 'dive deeper' and explore a non-routine problem related to the concept. This could be a problem in context, a puzzle, or a statement to explore. It is an opportunity for them to have a go at applying their learning and knowledge to problem-solving and reasoning questions.
Step 5: Additional support
The sessions also have additional 'support slides', which the tutor can use if needed to support the pupil further. These are often learning aids that can help pupils, or may revisit an idea, enabling the session to be personalised further.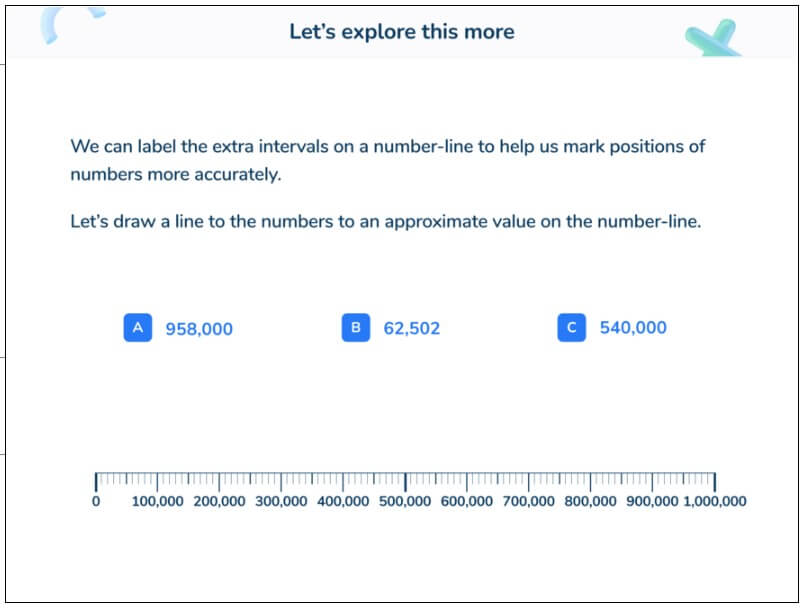 "Pupil engagement and interaction plus the tailoring of the curriculum to meet the needs of the children."

Chris Willan, Headteacher, Water Primary School
Bonus Step: Assessment
At the end of each lesson and the end of each term, pupils are asked to answer a few questions about what they have learnt. This helps us to map each pupil's progress over time, and understand changes in their confidence and engagement. These post-session questions also help to diagnose outstanding gaps and adapt the subsequent Learning Objective sequence.
Conclusion
There you have it; a simple five-step structure intended to plug gaps and build confidence and understanding. Third Space Learning's lessons are designed to take pupils right through from concept introduction to practice to application, with tutors only moving pupils forward when they feel ready.
However, our work is never done. The lesson slides are constantly being reviewed and revised to continue supporting the thousands of learners that use them every week. Our range of KS2 maths intervention lessons cover content from Year 1 right through to Year 6, and categories from number and place value to ratio and proportion.
Third Space Learning has carefully developed approximately 400 Learning Objectives, 2,000 slides and 3,200 questions!
We hope that this sneak peek inside our one to one maths lessons has shown you how much care and attention goes into producing our programmes, and why our lessons are so great. Not only that, but we hope to have inspired the structure of your own intervention lessons, from our classroom to yours.
Read more: What We've Learnt From Delivering One Million Online Lessons
Do you have pupils who need extra support in maths?
Every week Third Space Learning's maths specialist tutors support thousands of pupils across hundreds of schools with weekly online 1-to-1 lessons and maths interventions designed to plug gaps and boost progress.

Since 2013 we've helped over 150,000 primary and secondary school pupils become more confident, able mathematicians. Learn more or request a personalised quote for your school to speak to us about your school's needs and how we can help.