Times Tables Grids In The Classroom: How You Can Use Them To Create Multiplication Masters (Plus 11 Free Printable Times Tables Grids)!
March 13, 2020 |
14 min read
Times tables grids, or multiplication grids as they're otherwise known, are an essential and omnipresent feature of any primary classroom. But are your multiplication grids a rarely-used or long-forgotten addition to your teacher cupboard – from a time when lamination was still a thing, or, are multiplication grids a regularly remade and revered resource within your workspace? Regardless of your answer, in this post we will be taking a look at how you can get the most from the humble times tables grid, and how you can use them to help your class excel with their times tables.
Times Tables Grids – The Forgotten Hero Of The Education Resource World
Whether it's a times tables grid up to 12 x 12 or a grid up to 100, we've all got a set stashed away in a dusty resources cabinet or crumpled up at the bottom of each table's stationery caddy. We want to breathe new life into the sometimes ignored learning aid by breaking down how best to use all forms of multiplication grids.
We'll be covering blank times tables grids, multiplication grid worksheets and even sharing some times tables grid games to help you dust yours down. Don't worry if you've forgotten where you put them though, we've got you covered with a free printable times tables grid resource download. So, let's get multiplication grids working for you and the children in your class once more!
Bringing Multiplication Back To Basics
Many of you will have signed up to either Times Tables Rockstars or Ross Harrison's up-and-coming KS2 Times Tables app, and others of you might have a class that still loves a game of Hit The Button or one that is mad about the many times tables games on Mathsframe.
But even with all of these amazing digital resources on offer, there are still questions to ask:
• What happens when the internet's down for the day?
• How engaged are the children who don't get the chance to come up and Hit The Button?
• What happens to the kids who for whatever reason despise Manchester United, so will refuse to learn the six times table as it's been endorsed by Fred the Red.
• Or…. (assuming your school has managed to invest in a class set of hardware) what happens when the iPads, LearnPads, laptops or ChromeBooks are invariably out of charge?
Fear not! We've got you covered for teaching times tables with a number of printable times tables grid worksheets and some simple multiplication grid games too!
Treasuring times tables and making mastery of multiplication a central feature of your school's culture is a key way to get ahead of the times tables game, as Chris Dyson of Parklands in Leeds has shown.
Check this young man out – it needs to be seen to be believed.
Using Times Tables Grid Up To 100
Although there's mounting pressure on teachers to ensure their pupils master their times tables – #MultiplicationTablesCheck anyone? – for children still working hard to get to instant recall, or children with knowledge retention or cognitive processing learning needs, a grid up to 100 is an essential classroom tool to enable them to take part in numerous tasks.

A grid that goes up to 100 can be the difference between a child being able to demonstrate they've understood the multiplication required by a word problem or not – and it's a gateway for many children who might otherwise be barred from engaging in short division.
In fact, I remember a few years ago now checking in on my glamorous Teaching Assistant (shout out to my girl, Monica!) working with a pair of girls from my Year 6 class (one of whom was working at a Year 1 level) smashing through a set of short multiplication questions using a Multiplication Machine – the existence of such a piece of formed-plastic magic I was hitherto unaware of…
(It really should be disqualified from appearing here as for some bizarre reason it only goes up to 9 x 9 so isn't quite the times tables grid up to 100 this section suggests – a massive product design fail, in my humble opinion. It's being allowed as its simple interactive manifestation of a TT grid is undeniable.)  
Imagine my surprise a few days later when I went to hang with the girls again and they were this time tearing through a set of short division questions. That's right – for the uninitiated – the team behind the Multiplication Machine thought it best to produce a machine that demonstrates the inverse operation before rectifying the fact that their products fail to represent a times tables grid up to 100…
I present… the Division Machine (although, if I'd been on the branding team I'd have gone for Division Device to maintain expert levels of alliterative naming practices).
An Example Of A Times Table Grid Up To 100
For those of you who would like something that goes beyond 9 x 9, you can get your hands on a printable times tables grid up to 100 here:
Times Tables Grid Printable Resource Pack
If you are on the lookout for some ready made printable times tables grids for your class, this pack contains both ready made and blank grids you can use straight away.
Download Free Now!
Using Times Tables Grid Up To 12 x 12
A multiplication grid up to 12 x 12 is a necessary feature of any primary school classroom – although it is going to be a rush to wean Year 4 children off of them ASAP. Nick Gibb, appointed the Minister of State for Schools after the 2015 general election, as part of his announcement on Valentine's Day 2018 (some love letter, Nick) pronounced: "The multiplication tables check is designed to help ensure children in primary school know their times tables up to 12 off by heart."
You can learn more about this times tables check announcement here.
For lovers of the Multiplication Machine and its contrary twin, the Division Machine… sadly, the Machine machine do not have you covered on this front – the selection of physical learning resources that represent a grid up to 12 x 12 are, in fact, rather more limited (Dragons' Den product pitch, anyone!?).
Although there are many games and applications, that replicate the facts delivered by the humble multiplication grid up to the mighty 144 – every teacher, teaching assistant or learning support assistant surely knows the power and – if it's been laminated – the glory of a times tables grid up to 12 x 12.
They can help with enabling pupils to access fluency and reasoning problems alike requiring knowledge of times tables facts, especially for those children who still aren't 100% sure in how well they recollect them.
An Example Of A 12 x 12 Times Tables Grid
Here's a clear grid up to 12 for you to download. Again having a multiplication grid could be the difference between a child being able to simplify a fraction or not, and it could also allow a child to choose an effective common denominator – a child who might otherwise have been left adrift in their fractions learning.
Bringing Blank Times Tables Grids Into The Classroom
As many newspapers and media outlets have reported, there's a big push towards multiplication mastery in time for the Summer term for Year 4 pupils, so if you can get them and – better still – pupils in Year 3 and below working on blank times tables grid you'll be putting yourself in good stead ahead of the Multiplication Tables Check.
Blank grids can be used in a variety of ways.
You could start with a blank times tables grid up to 100 – either with or without the factors marked on the leftmost and topmost column and row respectively – and have children fill them in themselves. Or, you could launch straight into having your pupils fill in theirs times tables grid up to 12 x 12 from scratch.
Whether you choose to use a multiplication grid up to 100 or a one up to 12 x 12, the 'filling in' could happen at school, or it could be part of pupil's home learning, filling in the relevant column or row depending on the times tables being focused on each week. Each child's grid could then be seen as a visual, numerical learning journal growing over time as their attention grows from one times table to the next.
To save you scrabbling around on Google Images locating a pixelated printable times tables grid, we've saved you the bother. You can download all of our printable times tables grid templates here.
Times Tables Grids Can Be Used Across All Year Groups
Times table grids can also be used as an excellent tool to introduce pupils in Year 2 and 3 to multiplication and division facts, showing them the relationship between these two operations.
For example that 2 x 3 = 6 and that 6 ÷ 2 = 3. This is highlighted in our lessons '2, 5 and 10 times tables and division facts' and '3, 4 and 8 times tables and division facts'.
For Years 3 and 4, when introducing the potentially confusing subject of multiples and factors, times tables grids are a simple pictorial representation of what is meant by a multiple or factor. For example, looking at the 7 times table will highlight what numbers are factors of 7. By then showing pupils the multiplication calculation 7 x 9 = 63 this then shows them that 9 and 7 are factors of 63.
Multiplication grids are only really limited by your imagination in the classroom, and due to their pictorial nature, they are also excellent tools to be used when working with children learning difficulties.
---
How Third Space Learning will be supporting the new emphasis on Multiplication and TImes Tables
We have always focused heavily on teaching the fundamentals of times tables, multiplication and division within our 1-to-1 maths lessons each week. Since 2016 Multiplication and Division is the topic that's accounted for the most number of marks on the KS2 SATs tests and we don't expect future papers to be very different. The thousands of Year 6 pupils who we teach 1-to-1 each week to help them prepare for SATs can expect to receive plenty of multiplication conceptual guidance and practice both for the arithmetic and reasoning test.
For your Year 3 and 4 pupils who could do with an addition push before the Times Tables Check in 2020, or before the Times Tables Check trial in 2019, we have already been developing some additional KS2 Times Tables Lessons, and, now we have the framework, will be able to finalise and release these to the schools using our 1-to-1 maths interventions.
---
Times Tables Grid Games You Can Play With Your Class
Obviously, there are ways to instil a friendly dose of competition into using blank times tables grids – we've got a couple of quick and simple times tables games using for you to use in your classroom!
Times Tables Game Idea 1: Grid Dice
For our times tables grid dice game, as you might have already guessed, you'll need blank grids up to 12 x 12 (the yellow section will be explained!) and pairs of six-sided dice. You could adapt the template to fit the requirements of your year group's requirements within the National Curriculum. For example, Year 3 are expected to "recall and use multiplication and division facts for the 3, 4 and 8 multiplication tables".
Times Tables Grid Dice Game Instructions:
Children can play this game in pairs or as a table group.
• Each child should have a pen or pencil of their own colour, and one di each.
• To begin with the children can roll one di to find the first factor and then the same di to choose the second factor. So, if they rolled 2 and then 6, they would fill in the 2 x 6 cell and the 6 x 2 cell – a good time to demonstrate multiplication staying true to the commutative law.
• Once they've filled in up to 6 x 6 – the purpose of the yellow cells/box within the grid – they can start rolling both dice each time it's their 'go'.
• If they roll a multiplication that's already been filled in, they miss a go.
• Once the grid is entirely filled in, the children count up how many cells they've filled correctly (using one of our printable times tables grid up to 12 x 12 to check their answers).
(You can differentiate by setting up the game using a blank times tables grid up to 100, again checking at the end using a printable times tables grid up to 100.)
So, there you go. It's that simple – a low-cost, lo-fi, technology-free grid game using dice!
Times Tables Game Idea 2: Grid Races
Times Tables Grid Races are simple enough…
Start with columns and rows headed in numerical order. Children race to fill in their blank times tables grid as quickly as possible (noting down the time taken to do so to allow them to see if they can improve on their time during future races). Again, you can differentiate or show progression by using both times tables grids up to 100 and grids up to 12 x 12.
You could then move your pupils on to races with the numerical column and row headings inverted.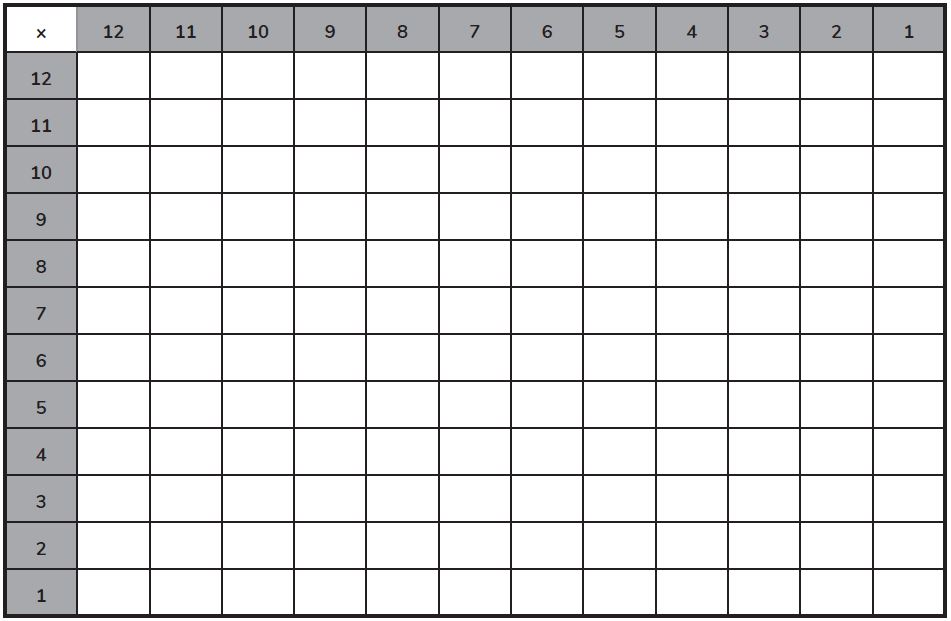 From that point onwards, it's best to randomise the column and row headings on the children's blank grids. We've created a randomized blank grid and a blank grid template to enable you to create times tables grid race templates until your heart's content and until your class' multiplication tables have been mastered!
Bonus Times Tables Grid Activities
If you really wish to challenge your pupils, you could have randomized products inside cells. This means that pupils have to work out which column and row headings to place based on their times tables knowledge – or knowledge of times tables rules.
An examples of this is how all numbers in the five times table end with the digits 5 or 0, or that the sum of the digits in the nine times table is either 9 or in the case of 9 x 11 = 99…. 9 + 9 = 18 (a multiple of nine itself at least, which – again – if the sum of the digits is added together finally makes 9 too).
The true problem solvers will quickly cotton on that they can copy the headings for the columns and rows using the numbers in the one times table column and row respectively. (You can test how much they've mastered their multiplication knowledge by asking for a reasoned explanation for their hack or shortcut!)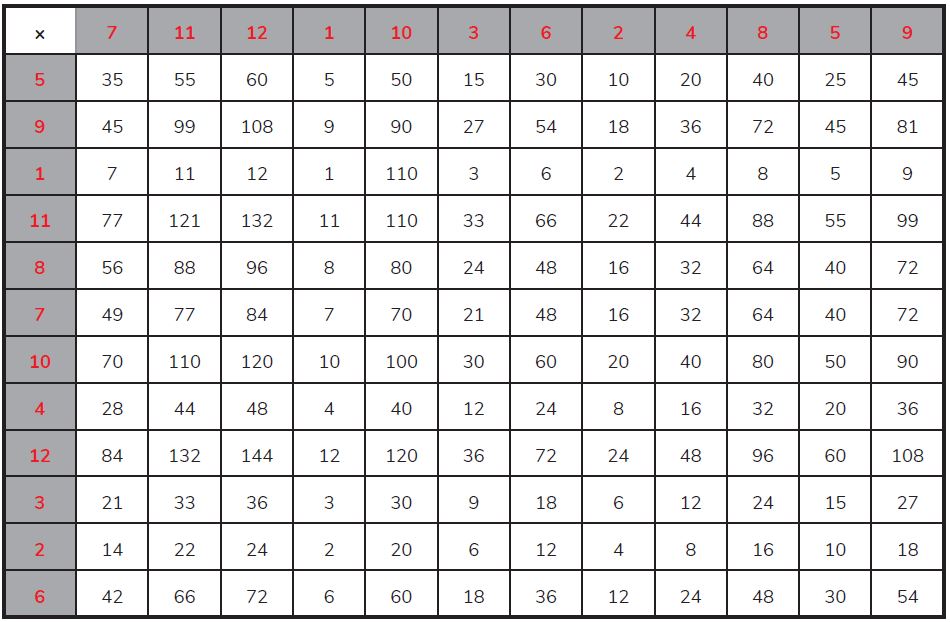 Bonus Idea: Use Times Tables Grids To Practise Place Value Strategies And To Encourage Reasoning From Known Facts
Reasoning from derived facts and the ability to incorporate multiplying and dividing by 10, 100 and 1,000 are key mental strategies that can improve children's speed and confidence, especially when working through KS2 SATs papers.
The grid below demonstrates how they can be used as the perfect pro forma to positively impact children's multiplication agility – especially when used as a times tables grid race!
| | | | | | | | | | | |
| --- | --- | --- | --- | --- | --- | --- | --- | --- | --- | --- |
| x | 0.4 | 70 | 40 | 7 | 0.7 | 4 | 10 | 1 | 0.1 | 700 |
| 70 | | | | | | | | | | |
| 0.4 | | | | | | | | | | |
| 40 | | | | | | | | | | |
| 7 | | | | | | | | | | |
| 1 | | | | | | | | | | |
| 0.7 | | | | | | | | | | |
| 10 | | | | | | | | | | |
| 400 | | | | | | | | | | |
| 0.1 | | | | | | | | | | |
| 4 | | | | | | | | | | |
You could use a blank template and suggest different row and column headings to extend the life of this idea / resource!
(To extend the format further, you could also have a mixture of filled in product cells and empty column / row heading cells to challenge children to work out what the original factors were in your times tables worksheet…)
| | | | | | | | | | | |
| --- | --- | --- | --- | --- | --- | --- | --- | --- | --- | --- |
| x | 0.4 | 70 | 40 | 7 | 0.7 | 4 | 10 | 1 | 0.1 | 700 |
| 70 | 28 | 4,900 | 2,800 | 490 | 49 | 280 | 700 | 70 | 7 | 49,000 |
| 0.4 | 0.16 | 2.8 | 16 | 2.8 | 0.28 | 1.6 | 4 | 0.4 | 0.04 | 280 |
| 40 | 16 | 2,800 | 1,600 | 280 | 28 | 160 | 400 | 40 | 4 | 28,000 |
| 7 | 2.8 | 490 | 280 | 49 | 4.9 | 28 | 70 | 7 | 0.7 | 4,900 |
| 1 | 0.4 | 70 | 40 | 7 | 0.7 | 4 | 10 | 1 | 0.1 | 700 |
| 0.7 | 0.28 | 49 | 28 | 4.9 | 0.49 | 2.8 | 7 | 0.7 | 0.07 | 490 |
| 10 | 4 | 700 | 400 | 70 | 7 | 40 | 100 | 10 | 1 | 7,000 |
| 400 | 160 | 28,000 | 16,000 | 2,800 | 280 | 1,600 | 4,000 | 400 | 40 | 280,000 |
| 0.1 | 0.04 | 7 | 4 | 0.7 | 0.07 | 1.6 | 1 | 0.1 | 0.01 | 70 |
| 4 | 1.6 | 280 | 160 | 28 | 2.8 | 16 | 40 | 4 | 0.4 | 2,800 |
What a completed derived facts multiplication grid looks like!
The National Education Union have suggested that the creation of the multiplication tables check shows that the government have a lack of trust in schools and teachers – we're all aware of the National Curriculum and times tables' place within it.
Consequently, it's worthwhile to take a step back and consider that times tables grids are useful for multiple reasons. They serve as a great resource to support those who struggle with instant recall, and blank, incomplete or muddled worksheets make for fantastic templates to encourage speed and fluency when applying times tables knowledge.
(Solid recall of times tables can be supported or demonstrated using suitable pro formas to challenge and extend pupils, having them reason by working backwards to identify factors or to derive facts within a multiplication grid.)
How Times Tables Grids Are Used In Third Space Learning Intervention Lessons
Although our tutors have been trained to use times tables grids as a last resort, encouraging pupil independence and elicitation of known number facts (including times tables knowledge) wherever possible, a grid is included in the toolkit of learning aids our specialist maths tutors use when working 1-to-1 with pupils in their online maths intervention lessons.
A grid can be dragged onto a slide at the tutor's discretion to support a pupil in getting to the answer using the strategy they've identified – whether they're multiplying or dividing.
Better still, the virtual times tables grids used by pupils in their 1-to-1 intervention lessons work much like a mini-whiteboard or laminated grid – pupils can make notes on the grid, personalise it, make it work for them in their learning, leave it to one side (by hiding it) and then return to it with the same annotations which often prove useful if it's returned to later on in the lesson.
---
Further Reading:
• The Year 4 Multiplication and Times Tables Check
• How To Teach Multiplication at KS2
• Maths Mastery Resource: How To Understand and use Mastery Techniques in Primary Maths Lessons