How To Make Best Use Of Your Learning Interventions: Examples From Schools That Have Been Successful
September 19, 2023 |
9 min read
As students make their way through school, they often stumble upon a host of challenges which can make them struggle academically. From learning differences and behaviour needs to socioeconomic inequalities and the unexpected pandemic school closures, these hurdles can throw them off course.
To address these challenges, schools may implement a variety of intervention strategies to provide additional support to the children who need it most.
In this blog, we will look at the reasons schools may look to implement learning interventions, the different types of learning interventions available for schools, how to design effective learning interventions and the practical considerations which need to be taken into account.
What is a learning intervention?
Learning interventions are used by schools to support students who face academic difficulties. These interventions serve a vital purpose: to provide learners with the additional support they need to reach their full potential. By addressing gaps in their knowledge and helping them to overcome any barriers, effective interventions empower students to achieve the success they are truly capable of.
Interventions are usually conducted during the school day and can be carried out by teachers, teaching assistants or other professionals who are trained to deliver targeted interventions. They can be delivered through one-to-one tuition, or via small group support.
School leaders should recognize the importance of evidence-based interventions, taking into account current educational research and ensure that they are tailored towards the individual needs of young people. Success can be measured through formative assessment to measure the emotional, academic and/or social progress made by each student.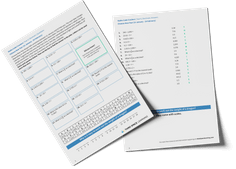 The Third Space Learning Guide to Effective Learning Interventions
The Third Space Learning Guide to Effective Learning Interventions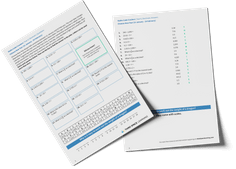 Download FREE Now!
Learning intervention vs instruction
The difference between intervention and instruction is that while instruction encompasses regular classroom teaching to support pupil learning, interventions are specifically tailored to address the academic struggles of individual students or groups who are not performing at their full potential.
Why are schools looking for learning interventions?
Over time, any misconceptions or short-term gaps in learning only continue to grow. It is essential that teachers identify them and intervene early. Without early intervention, students will find it more and more difficult to catch up and reach the level of achievement they are capable of.
Here we look at some of the key reasons why schools may choose to implement learning interventions:
Pupil premium attainment gap
Pupils from lower-income households often face challenges which may negatively impact their academic performance. These children often have limited access to resources and lower levels of support at home.
The benefit of educational interventions for these pupils is that they provide them with the additional support they need to reach their full potential.
Learning loss from the Covid-19 pandemic
The impact of the Covid-19 pandemic is ongoing in schools with many students continuing to struggle academically through learning lost during school closures. Disadvantaged students have been disproportionately affected by this.
Interventions are vital for helping these children close the gap and stop pupils falling further behind, especially in subjects such as maths. Maths is cumulative in nature, meaning concepts build on one another. If a child does not have a solid understanding of essential foundational concepts, they will struggle to keep up and fall further behind.
A 2022 study conducted by FFT, Teacher Tapp and the EEF showed that the disadvantage gap for maths "widened since the onset of the Covid pandemic meaning an increase of between 4% to 17% in the pre-Covid 19 disadvantage gap".
Behavioural challenges
Behavioural needs can impact a student's ability to achieve the level of success they are capable of. Learning interventions provide these pupils with the necessary support to develop effective strategies to help them engage in learning.
Learning disabilities and differences
Student's progress can be impacted by learning differences, such as ADHD, autism and dyslexia. Learning interventions can provide these pupils with targeted support, helping them to develop the essential skills to overcome the challenges they may face in and out of school.
SEMH challenges
Pupils may require extra support when they have encountered social and emotional challenges. When children face issues that affect their mental health and self-esteem, it can create barriers that hinder their ability to engage in learning effectively.
What are the main learning intervention strategies?
Learning interventions come in many forms. The Education Endowment Foundation (EEF) have evaluated a range of interventions and created a toolkit, designed to support school teachers and leaders in the decision-making process.
Extensive research conducted by the EEF has shed light on the key interventions which are likely to have a positive impact on the learning experience and learning outcomes.
Certain interventions are better suited for primary school children, while others are more appropriate for students in secondary education.
1. One to one interventions
In one to one interventions, a teacher or teaching assistant provides intensive one to one support. These interventions can occur either as a replacement for regular lessons or outside of normal class time, complementing the ongoing classroom work.
This personalised approach has a significant impact on student's progress as it allows for concentrated attention and tailored guidance to address their specific needs.
As one to one maths tutoring specialists, we believe this is the best way to support children to close learning gaps – and the evidence supports this! The EEF found that one to one tutoring can provide on average +5 months additional progress.
The best one to one interventions have clear links to the curriculum and pupil's learning in the mainstream classroom. It's for this reason our programme follows the National Curriculum and White Rose Maths.
Traditionally, the cost of one to one tuition has priced out schools. However, the National Tutoring Programme has made tutoring more accessible and affordable for schools. Third Space Learning further makes one to one tuition more affordable for school budgets by going online and recruiting and training specialist tutors in emerging markets, most notably India and Sri Lanka. This means we can offer schools personalised, targeted one to one tuition for the same price as other providers charge for small group interventions.
Still unsure about introducing this form of intervention in your school? Read about one to one maths intervention myths to gain a deeper understanding of their effectiveness.
2. Small group interventions
Small group interventions follow a similar structure to one to one interventions but with pupils working together in small groups instead of individually.
When led by a suitably trained adult, these interventions can have a substantial impact on students. However, the impact decreases rapidly beyond 6 students. It also requires careful planning to group students with shared learning gaps which in turn requires sensitive diagnostic assessment to identify learner needs. This can be a time consuming task.
At Third Space Learning, we've designed our programme with teachers and school leaders in mind to reduce the workload on teachers while maintaining high impact for pupils.
We achieve this through our online diagnostic assessment which diagnoses pupil learning gaps and automatically selects the lessons students need most. We additionally provide on-demand reports for teachers so they can check in on the progress of pupils at any time. We also take care of all of the recruitment and training of tutors which can pose a significant challenge for school leaders looking to start up learning interventions in-school.
3. Classroom-based interventions
Classroom-based interventions provide support to learners within their regular classroom environment instead of removing them to work in separate spaces.
For example, a maths intervention can be led by the class teacher or a teaching assistant, offering children the chance to collaborate and explore concepts together in a structured manner.
The smaller group setting allows for increased levels of support and focused attention, enabling students to make significant progress. However, as with small group interventions, it can be challenging to deliver the same dedicated support pupils would receive in one to one tutoring.
4. Peer tutoring
With this collaborative pedagogical approach, pupils work in pairs or small groups to provide each other with teaching support. Children are grouped together to enable more experienced students to support children who may be struggling, with evidence showing that both parties benefit from this form of tutoring.

This learning intervention is likely due to be more successful in a secondary setting, and is less suitable for KS2 tutoring, due to the skills needed by pupils to effectively coach, motivate and teach peers.
5. Behavioural interventions
Behavioural interventions aim to raise attainment by addressing and reducing challenging behaviour in school. These interventions include:
developing a positive school ethos;
improving discipline across the whole school;
implementing universal programmes for general behavioural issues;
implementing specialised programmes for specific behavioural issues of individual students.
6. Social and emotional learning interventions
Social and emotional learning interventions aim to improve students' decision-making and problem-solving skills, interaction with others and self-management of emotions, as opposed to focusing directly on the academic aspect of learning.
These interventions can be implemented at different levels, catering to the entire school community, specific classes, or individual students.
7. Aspiration interventions
The aim of aspiration interventions is to raise the aspirations of pupils, which in theory should provide students with the incentive to improve attainment.
These interventions can focus on parents and families, teaching practice and out of school interventions, such as extra-curricular activities, sometimes involving peers or mentors.
8. Metacognition
Interventions focusing on metacognition and self-regulation support pupils to think about their own learning, by teaching them specific strategies for planning, monitoring and evaluating their learning.
These interventions aim to give students a range of strategies to choose from and the skills required to select the most suitable strategy for any given task.
9. Collaborative interventions
This approach focuses on small group work. Pupils may work on separate tasks which come together or work together on a shared task.
This is different from unstructured group work and requires tasks to be carefully designed to ensure working together is efficient.
Pre-teaching vs follow-up learning interventions
The difference between pre-teaching interventions and follow-up interventions is their timing and purpose. While pre-teaching interventions occur prior to the lesson to introduce key concepts, follow-up interventions take place on the same day but after the lesson to address any identified misconceptions or learning gaps.
Benefits of pre-teaching
Pre-teaching has been demonstrated to provide a range of benefits for pupils, including:
Improved understanding: students are introduced to the concepts and content before it is shared with the whole class. This enables them to gain a more solid foundation on which they can build when the whole-class lesson takes place.
Increased confidence: with more time to process information and understand the task, students often feel more confident when they encounter it again in the whole-class lesson. This can help reduce anxiety and negativity towards learning, giving students a more positive outlook.
Increased motivation: children can be more motivated when introduced to new content before the rest of the class. Particularly when they can demonstrate their understanding in front of others in the class.
Targeted support: teachers can identify areas of difficulty in advance of the lesson, enabling them to be more structured in their support during the lesson.
Limitations of pre-teaching
Whilst pre-teaching has benefits for students, it is also important to consider the limitations:
Time constraints: time is the biggest limitation, due to the additional time needed for teachers to prepare and deliver the content in advance.
Limited effectiveness: pre-teaching may not be effective for everyone. Children who have difficulties processing information or retention may only have a basic understanding of the concepts rather than a deeper, more meaningful understanding.
Lack of engagement: for students who aren't engaged with the process, it is unlikely they will retain the information and therefore won't benefit from the intervention.
Resource intensive: pre-teaching requires additional preparation, requiring time and materials. This can be challenging for teachers already stretched for time and resources.
Difficult implementation: in schools with larger numbers of pupils requiring pre-teaching, it can be a challenge to ensure all students receive the necessary support.
Benefits of follow-up interventions
Follow-up interventions can provide a range of benefits for pupils:
Improved retention: follow-up interventions reinforce concepts taught in the classroom, which helps improve retention, enabling pupils to more confidently apply what they have learnt in future lessons and assessments
Individual support: support can be tailored to the individual needs of the students, targeted to help them succeed.
Increased engagement: through providing pupils with additional opportunities to engage with the concept and feel confident they have understood it.
Better outcomes: through the reinforcement of concepts, children are more likely to achieve academically.
Limitations of follow-up interventions
Whilst follow-up interventions have several benefits, it is also important to consider the limitations:
Resource intensive: requiring additional time, materials and staff support to deliver effectively.
Limited effectiveness: some pupils may require more targeted interventions to address their specific needs.
Limited number of pupils: only small groups of students can receive this intervention, meaning it may not impact as many students as necessary.
Lack of motivation: if students aren't motivated and don't participate fully, this form of intervention may not be effective.
Limited scope: such interventions may not address all the challenges that students face and may not address any other underlying issues a student may have.
How to design effective learning interventions
When designing learning interventions, careful planning is vital to ensure they achieve the desired impact.
1. Identify student needs
The first stage is to identify what the needs are of those children who will be joining the intervention. This could be through analysing students' performance in learning activities; conducting baseline assessments or carrying out surveys/interviews with the pupils themselves.
At Third Space Learning, before pupils start their tutoring sessions, they complete a diagnostic assessment. This informs what selection of lessons will make up their personal programme and ensure pupils are spending times on the topics that will propel their progression furthest.
Our diagnostic assessment includes an 'About You' section to help tutors learn more about pupils and further personalise their sessions.
Once pupils complete their diagnostic assessment, teachers can see full reports via their log in so they are always in the know.
2. Set clear goals and objectives
For interventions to be successful, it is important to set clear goals and objectives based on the needs of the students participating in the intervention. Teachers also need to be clear about the outcome they are hoping to achieve.
3. Select evidence-based practices
Interventions should involve evidence-based practices, which are shown to be effective in progressing children's learning. The Education Endowment Foundation is a good starting point for teachers and leaders.
4. Design the intervention
Once you have a good understanding of the needs of the students and have set clear goals and have chosen an appropriate evidence-based practice, the intervention can be planned.
5. Monitor and evaluate
To ensure the intervention is having the impact it was designed for, it is important to regularly monitor and evaluate progress. If necessary, the intervention can be adapted, to ensure the goals and objectives are being met.
Top tips for creating successful learning interventions
Size of group: make sure the intervention group isn't too large. Once the group becomes too big (over 6 pupils), the impact of the intervention will be significantly reduced.
Make the interventions fun: interactive and practical sessions foster engagement, significantly enhancing children's learning and retention.
Planning: consider goals, objectives, and necessary components to maximise the effectiveness of interventions in the learning process.
Timing: carefully consider intervention timing to avoid disrupting children's participation in other lessons, as they may react negatively to missing out on desired activities.
Location: where possible, make sure the location of the intervention is suitable. Try to find a quiet space with minimal distractions.
Resources: think carefully about resources which will enhance the lesson and make sure they are readily available for the session.
Monitoring: track the impact the intervention is having to avoid blindly continuing, without being sure it is impacting the children's learning.
Staff strengths: leverage the strengths of various school members when assigning intervention leadership, optimising their capabilities whenever possible.
Staff workload: consider the impact the interventions will have on the workload of staff.
Practicalities around learning interventions
When planning and delivering learning interventions, it is important to be aware of the practical considerations.
Timetabling: take into account factors such as the duration of the intervention, how often the sessions will be delivered and the timing of the session. Students need to be able to participate, without other curriculum areas being impacted upon.
Room allocation: ensure the room is available and there is sufficient space for all pupils and any resources which may be required.
Resources: make sure appropriate resources are readily available for students to use.
Staffing: take into consideration who is going to lead the intervention and whether they will require additional CPD to deliver the intervention successfully.
Communication and reporting: think about how the impact of the intervention will be reported – to parents, Governors, and Ofsted.
Student attendance: without student buy-in at secondary, the intervention can't be successful.
Funding: determine whether there are sufficient funds for staffing and resources needed to deliver the intervention.
Consider choosing external intervention and tutoring providers: often, external providers will take care of recruitment, initial training and on-going CPD.
Here at Third Space Learning, we've created a programme designed to reduce workload for teachers, with an easy to use platform for booking, rescheduling and checking reports.

Additionally, all schools receiving tutoring with Third Space Learning are assigned their own dedicated customer success manager to ensure everything goes smoothly, from initial set up to live session support.
What are examples of learning interventions?
Learning interventions include: one to one interventions, small group interventions, classroom-based interventions, peer tutoring, behavioural interventions, social and emotional interventions, aspiration interventions, metacognition and collaborative interventions.
How do you make an intervention successful?
Here are five steps to take to ensure your intervention is successful:
1. Identify student needs
2. Set clear goals and objectives
3. Select evidence-based practices
4. Design the intervention
5. Monitor and evaluate
Do you have students who need extra support in maths?
Every week Third Space Learning's maths specialist tutors support thousands of students across hundreds of schools with weekly online 1-to-1 lessons and maths interventions designed to plug gaps and boost progress.

Since 2013 we've helped over 150,000 primary and secondary students become more confident, able mathematicians. Find out more about our GCSE Maths tuition or request a personalised quote for your school to speak to us about your school's needs and how we can help.