How Students' Attitude Towards Maths Can Affect Lesson Outcomes And Their Confidence In Maths
August 20, 2023 |
4 min read
In this blog we are taking a look into how the attitude a pupil has towards maths can affect the results of their lessons and their confidence in maths.
To do this we will be using the data from some of the 60,000 pupils who have received online maths tuition from us
Factors affecting student success
In maths, children learn through asking questions and being able to explain the task at hand, as well as by gaining a knowledge of the underlying strategies used to solve a problem.
Success in the subject is determined by a child's mindset towards maths, their confidence in completing tasks and eagerness to learn new things.
Children's emotional states can greatly affect the rate and quality of their learning, so therefore it is important to develop and maintain a positive mindset towards learning to ensure children get the most out of their education.
In contrast, a lack of confidence in maths can lead to potential under performance and unhappiness; Carol Dweck, a professor of psychology known for her work on mindsets stated that:
"The best thing [parents] can do is to teach their children to love challenges, be intrigued by mistakes, enjoy effort and keep on learning."
The Third Space Learning Guide to Effective 1-to-1 Interventions
How to plan, manage, and teach one to one (and small group) Maths interventions in Key Stage 2
Download Free Now!
How a personal touch from a teacher can impact positively on a pupils' attitude towards maths
The relationship between student and teacher also has a large impact on both the participation and achievement of a child in lessons, particularly in KS1 and KS2.
Third Space Learning's intervention sessions provide a one to one experience to encourage participation and reinforce an enjoyment of learning maths. This is reflected in what Nera Butcher, Headteacher at Hogarth Primary, Essex, had to say:
"It is the personal approach, captured from dialogue with the tutors, that has given our pupils resilience, confidence and improved fluency in maths."
Additionally, Year 6 students from Rush Green School said that their tutors were:
"really kind"

" fun"

and that they "helped […] a lot".
It is clear from this that teaching should therefore be tailored towards expanding both problem-solving and analytical skills, as well as developing a positive attitude towards learning, especially when work becomes more challenging.
Continually adapting and improving the way we teach is what we do here at Third Space Learning, and part of the way we do this is by learning about pupils needs and attitude towards maths long before they join their first 1-to-1 session.
How we monitor pupil attitudes towards maths here at Third Space Learning
Before beginning their intervention, children being tutored through Third Space Learning answer a short questionnaire which helps us to gain an understanding of their attitude towards maths, categorised by confidence, effort, enjoyment and value.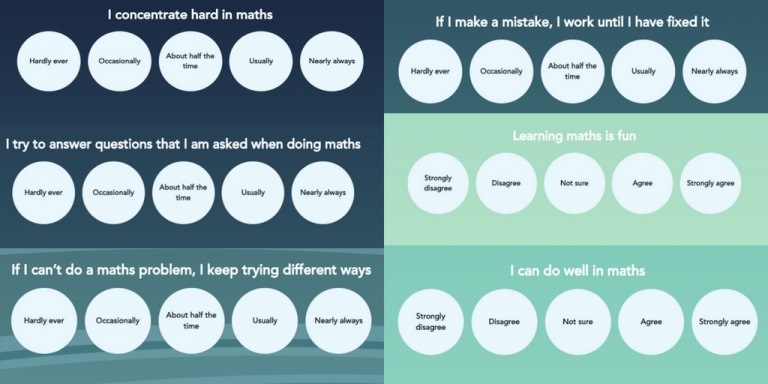 The images above are examples of questions asked to children beginning their intervention, and similar questions are used post intervention to evaluate progress.
If you are looking for further reading, take a look at how we measure impact and confidence in primary maths.
What do we do with this insight gained from the pupils?
Pupils' answers produce a value from 0 to 5 for each of these specific emotions:
Confidence
Effort
Enjoyment
Value
With this information students are sorted into five groups of similar attitudes, accomplished using machine learning. There is also a similar set of questions for children to answer after the completion of all their sessions, and these are used to track their progress and development.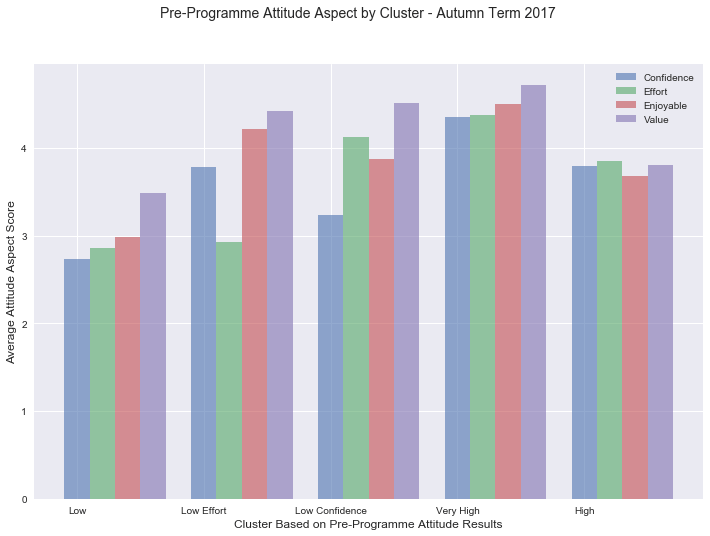 This graph shows the five clusters the pupils were broken down into. The clusters were decided by the results from the pre-intervention questions, and are based upon pupils that share similar attitudes towards the four emotions measured in the questions. The X-axis shows the clusters names, and the Y-axis shows their relative score for confidence, effort, enjoyment and value of maths from 0-5.
This graph shows the same pupils' feelings towards maths after they completed their Third Space intervention. Again, the X-axis shows the name of the different attitude groups, however this time the Y-axis shows their relative change to confidence, effort, enjoyment and value after completing their Third Space Learning intervention.
What the data shows us – 1-to-1 tutoring does improve pupil mindset
From these graphs there is a general improvement across all aspects of the working mindsets of both group 0 (the low group), who had overall lower initial scores, and group 4 (the high group), who had overall high initial scores, implying there is equal benefit regardless of starting point.
There is a significant increase in the effort of group 1, the group which originally had low effort compared to other values. Also, worth mentioning is the increase in confidence in maths for group 2, which had low confidence initially in comparison to other aspects of their work ethic.
By asking pupils to complete a series of question about their feelings towards approaching maths, we have been able to observe particularly significant improvements in children's effort and confidence towards the topic, as well as increased levels of enjoyment as a result of our 1-to-1 intervention programme.
How does an increase in confidence, effort, value and enjoyment relate to pupil performance?
After each tutoring session, students are asked to complete two multiple choice questions and explain how they arrived at their answer for each. This serves as an indication into how successful the lesson was, and the achievement and progress of each child. This data is then compiled to analyse the general performance of each of the five attitude groups.
What does the data show us?
From the above graph, the two highest performing groups were group 2 (low confidence) and group 3 (very high).
The low confidence group achieving the highest average score suggests that they benefited from their sessions, and that the sessions helped students with lower confidence to overcome this (as shown in the previous graphs.) In doing so the sessions have potentially helped them to better reach their full potential in maths.
Gemma Dienel, teacher at Wheatcroft Primary School in Hertfordshire, said that:
"Our Year 6 children really enjoy their focused sessions and find it a great way to boost their confidence before taking their SATs."
As group 3 (low confidence) scored very high initially on all aspects of their attitude towards mathematics, it can be inferred that a well-rounded and positive mindset is beneficial to consistently achieving highly in maths.
Having a positive attitude to maths results in strong performance and attainment
The results from the multiple-choice questions completed after each study session confirm that having a positive attitude towards maths correlates positively with performance and attainment.
It also shows that that those students who originally lacked confidence in maths performed very well after having gained it, suggesting students' potential can be better evoked under such mental conditions. This may be as a result of increased engagement with the material, now that they have confidence in their ability to grasp it.
Improving confidence in maths – What should you take from this information?
Third Space Learning believes a great part of student success is dependent on having the correct mindset to grow and improve, which stems from having a positive outlook on learning. It is something we strive to achieve in all of our 1-to-1 intervention sessions, and we are very proud of the work we have done to increase pupil confidence in maths in over 700 different schools.
We feel that 1-to-1 interventions are a fantastic way to improve pupils' attitudes towards maths, and the bond that pupils build with their personal tutors is vital in doing this. We understand how difficult it can be to ensure every pupil gets the attention they deserve in a full classroom, and that is why we exist, to help pupils turbocharge their maths results and achieve come SATs time in Year 6.
Karen Bridges, Deputy Headteacher from Green Park School, Milton Keynes reflected our thoughts when she said:
"Since using Third Space, our children are happier and more confident with all aspects of mathematics. They make better progress and achieve well at the end of Year 6."
With growing insight and the ability to carry out such research at scale, Third Space Learning hopes to bring to light the value of children in KS2 having a positive outlook on maths, increasing their confidence in maths, and the benefits for long-term success this can have.
And if you're interested in finding out how to improve pupils attitudes in your own online maths lessons, we have plenty of information available in our blog on the topic.
---
If you want to conduct a quick health-check on your current provisions, or are interested in running Maths interventions, read our blog: So You Think Your Pupils Need a Maths Intervention? [Free Intervention Checklist].
Do you have pupils who need extra support in maths?
Every week Third Space Learning's maths specialist tutors support thousands of pupils across hundreds of schools with weekly online 1-to-1 lessons and maths interventions designed to plug gaps and boost progress.

Since 2013 we've helped over 150,000 primary and secondary school pupils become more confident, able mathematicians. Learn more or request a personalised quote for your school to speak to us about your school's needs and how we can help.