What are number patterns?
Number patterns are groups of numbers that follow rules. They can use input/output tables to create sequences.
Two types of sequences are arithmetic and geometric.
An arithmetic sequence is a list of numbers where the same amount is either being added or subtracted every time.
Each sequence has a starting number, a rule and terms (the numbers that make up the sequence).
For example,

Rule: Subtract 6 each time.
There are also patterns, between the terms of two or more arithmetic sequences.
For example,
Both sequences start at 0. If you multiply the left column by 3, you get the terms in the right column.
This is because using the rule +9 is three times more than the rule +3.
A geometric sequence is a number pattern where the rule is multiplication or division.
For example,
Rule: Multiply the previous term by 5.
For example,
Rule: Divide the previous term by 3.
This page will highlight rules that involve whole numbers only.
Step-by-step guide: Sequences
Input/output tables are tables that are used to show two sets of numbers that are related by a rule. The rule can be one step or multi-step, but has to work for each relationship shown in the table.
For example,
What is the rule for the table below?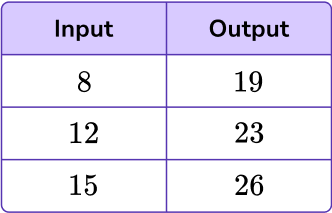 To find the rule, look for the relationship between the input and the corresponding output.
Notice, 11 is being added to each input to get the output, so the rule is 'add 11. '
Step-by-step guide: Input/output tables
As students learn to work with number patterns, they can learn more about generalizing patterns by working with shape patterns.
Shape patterns are any set of polygons, 3D shapes, letters or symbols that follow non-operational rules. There are repeating shape patterns and growing shape patterns.
A repeating pattern has a core that repeats over and over again.
For example,
The core of the pattern above is:

The core can be used to extend the pattern.
The next shape in the pattern would be:
because the last part of the core shown is:
.
A growing pattern has parts that stay the same, but other parts that change.
For example,
Changing – the left column starts with

0

and increases by

2.

Staying the same – the

1

cube on the top right.
Step-by-step guide: Shape patterns
What are number patterns?