Five Ways Math Helps Children In Life
October 5, 2023 |
1 min read
1) Math gives children confidence and new skills
Math gives children transferable skills they can use in everyday life that will last a lifetime. Doing math puzzles – whether at school or through home learning – teaches kids to think logically and will help them to get more comfortable with facing and solving problems in real life.
Through math, children learn to define a problem, think of ways to solve it, and evaluate results. This not only helps them with their critical thinking but also with their confidence too by knowing they have the skills to solve problems.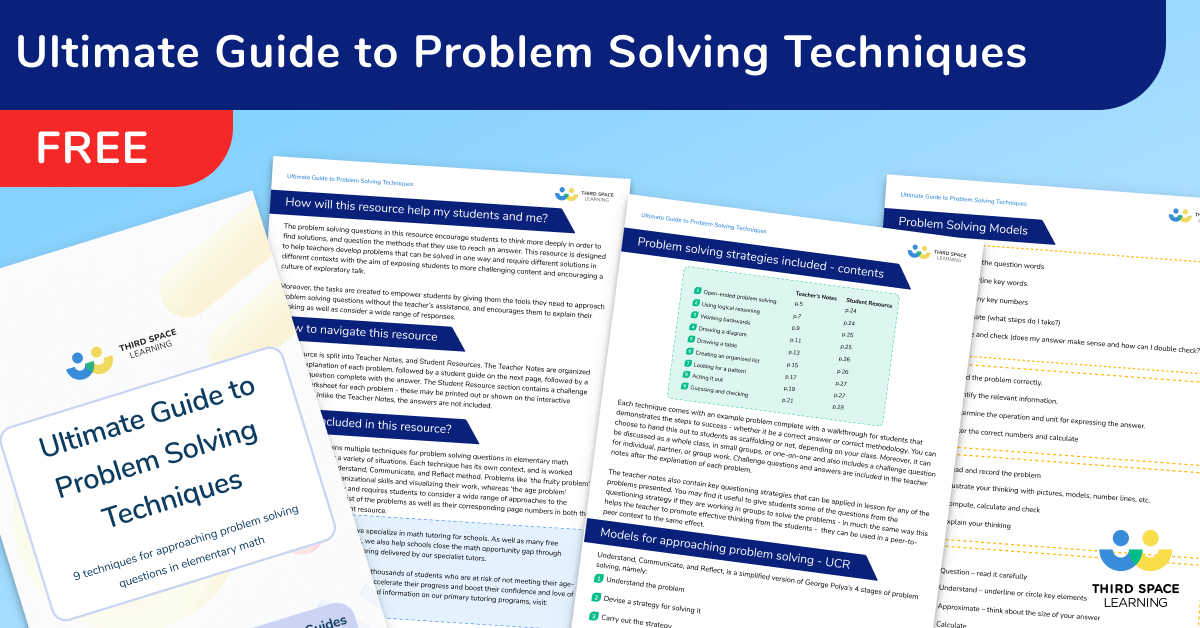 The Ultimate Guide to Problem-Solving Techniques
Use it with elementary students to help them develop their problem-solving skills, so they build confidence early on!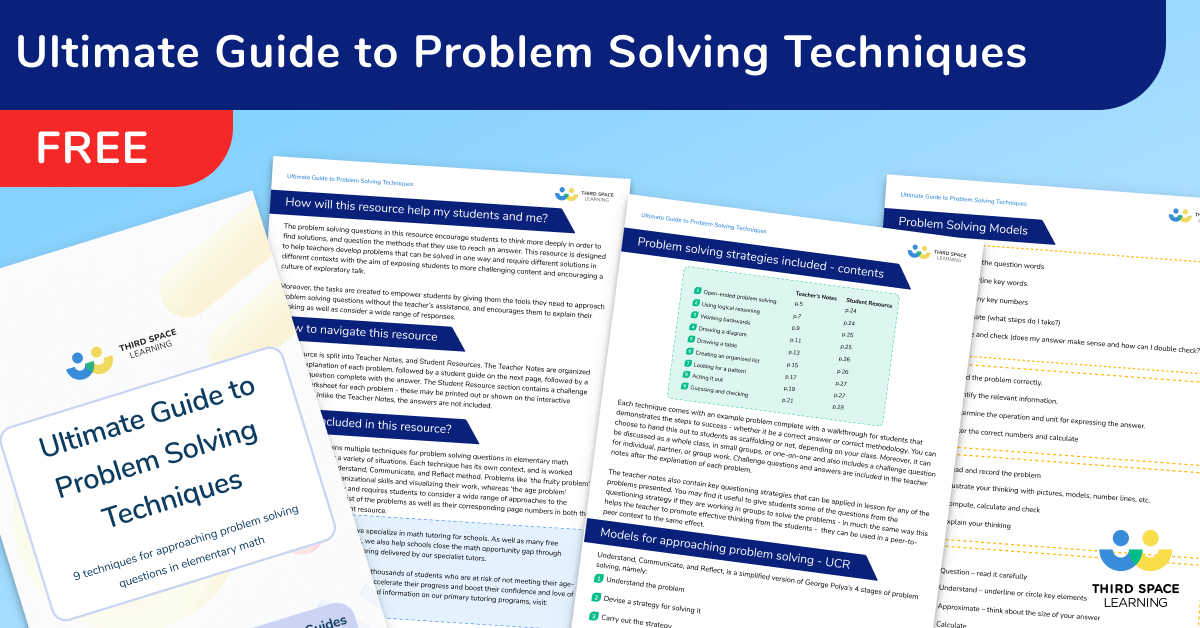 Download Free Now!

2) Math boosts kid's brain power
By practicing how to solve mathematical problems, kids improve their decision-making and problem-solving skills. Studying abstract concepts forces the brain to think in new ways, building the connections it will need to understand whatever problems the future might bring.

3) Math teaches children discipline
Learning any subject that doesn't come easily helps to develop discipline. By sticking with it, putting in the time and overcoming challenges, children are developing habits that can be applied to their daily lives and anything else they want to do.

4) Math gives children choices
Math opens up a world of other options for a child as they grow up. When it comes to studying further down the line, math plays a part in all the "hard" sciences, such as biology, chemistry, and physics; the "soft" sciences, such as economics, psychology, and sociology; engineering fields, such as civil, mechanical, and industrial engineering; and technological fields such as computer science, rockets, and communications.
There are even uses in the arts, such as when sculpting, drawing, and in music. Anything which uses a computer uses mathematics, which means an abundance of career options are opened up with math.

5) Math gives children a better future
Building confidence in math can lead to many career opportunities with high-earning potential, including business, finance, medicine, engineering, and other science-related fields. Computing and many other mathematical fields are reasonably safe career paths that will be around for a long time.
To go with this job security, children who go on to study mathematics end up earning significantly higher than the average salary.
As you can see, a good knowledge and understanding of math can help children in many aspects of life, so it is important to make them aware of the importance of math from an early age.
---
Related Articles:
Free Home Learning Resources And Math Packs For Elementary Students
9 tips for teaching your child about money
Do you have students who need extra support in math?
Give your students more opportunities to consolidate learning and practice skills through personalized math tutoring with their own dedicated online math tutor.

Each student receives differentiated instruction designed to close their individual learning gaps, and scaffolded learning ensures every student learns at the right pace. Lessons are aligned with your state's standards and assessments, plus you'll receive regular reports every step of the way.

Personalized one-on-one math tutoring programs are available for:
– 2nd grade
– 3rd grade
– 4th grade
– 5th grade
– 6th grade
– 7th grade
– 8th grade

Why not learn more about how it works?
The content in this article was originally written by primary school teacher Sophie Bartlett and has since been revised and adapted for US schools by elementary math teacher Katie Keeton.